Well, I'm writing this the third weekend in August and it's been two weeks since I moved from a 1200 sq. ft. house with 3 bedrooms, 2 baths and a garage, to My Own Tiny House with my husband of 55 years and our 35-pound dog Annie. This is something I have talked about doing for many years and always thought I would be really happy with the transition. But, like so many who dream the 'tiny-house dream', I had a fairly good-sized home with lots of space, and lots and lots of stuff filling it up.
When we made the decision to let go of our fairly good-sized house along with much of the stuff that filled it, it wasn't out of necessity, but out of wanting to live a freer, simpler lifestyle. It took a while to sort through everything, distribute the keepsakes and mementos and find a place for everything else, but now…what a great feeling to be rid of the overwhelming overabundance and living the life of my dreams! And now we do feel so free without the encumbrances of a mortgage, big utility bills and maintenance costs and the strain of living our golden years in a large house.
I designed and supervised the construction of our new home to our lifestyle specifications, keeping in mind all the advice and experiences I have collected over the years. I will be blogging and posting about the do's and don't's and the should's and should have's, so make sure you visit my blog 'Home Sweet Tiny Home'.
And please LIKE and SHARE my page on facebook at facebook.com/TinyHouseAdvisor.
Below, you will find the details to the Dunham Tiny Household and some pictures to show you how living cozy not cramped worked for us, and how it possibly can work for you. (Click on each image to see a larger view.) There are more pictures at the bottom of this page in a slideshow – I hope you enjoy seeing my finished project.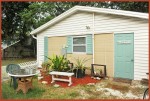 My Own Tiny House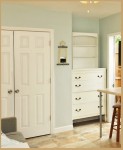 My tiny home is technically considered a 'studio' measuring 235 square feet of living space, with one room 9′ wide by 21′ long, plus a bathroom. On the right of the entrance, built from the back wall, there is a 6′ closet. Inside the closet, the clothes bar is hung 54 inches from the floor, allowing me to have 3 long shelves above for more than enough storage. I have an expanding shoe rack on the floor of the closet that holds all the shoes my husband and I may want. A 30-inch wide, four-drawer dresser nestles next to the closet. On top of the dresser, I placed a small free-standing bookcase for more vertical storage.
Bookcases can be very useful for storing more than just books. Several years ago, I found a beautiful unit at a yard sale that measures 3′ wide, 5′ tall and only 7″ deep, taking up less floor space. We positioned it against the back wall next to the closet, and I am amazed how convenient it is. Next to that is a comfortable sofa that provides plenty of seating area for every day and makes a great "guest room" when we have company. NOTE: If you should need more storage, the sofa can be replaced by a settee with storage built underneath. At this end of the sofa, masquerading as an end table, and coffee table when needed, is a set of stackable tables. At the other end of the sofa is a 30″ deep end table with 3 drawers. Next to that, mounted to the wall, I have a 24″ wide drop-leaf desk, with inside storage. This is a must for someone like me who spends a lot of tme at a desk. One of my biggest challenges was letting go of my beautiful large executive desk with a credenza, 2 file drawers and a hutch, but I am adjusting. Along with my new desk, I have a small rolling office chair that also serves as extra seating.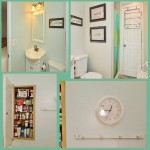 Now we come to the bathroom, which is 8′ x 5 3/4′ with a shower, vanity and standard toilet. There is plenty of room for a towel rack, plus an over-the-door hanger and a cabinet built in between the studs for toiletries.
I am fortunate that I can walk out that back door and have access to a laundry facility.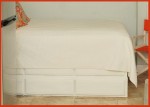 I was lucky to find two sets of under-the-bed drawers that I could stack on top of each other and had a carpenter friend of mine build a frame with a plywood platform. Adding a double mattress, I have a comfortable bed up against the wall, with lots of storage under it.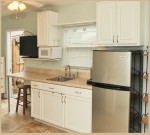 Coming full circle to my kitchen area on the opposite wall from the sofa, we have a 24″ wide by 5′ tall, 2-door refrigerator that is more than adequate for the two of us. I installed an 8′ long formica counter with a single sink and tall faucet. (If I had it to do over, I would have used a butcher block wood counter.) A two-burner hot plate snuggles next to the fridge. I left an area open on one end underneath the counter for a garbage pail and stools, so the counter can be used for eating as well as a work space. That left 5 feet for base cabinets. The upper cabinets were installed high, leaving room for open shelves to keep appliances and the microwave off the counter. One of the shelves also holds a 32-inch TV. I am now looking for a good set of headphones so that everyone in the room isn't subjected to the loud roaring of action flicks that guess who (not me) likes to watch.
Following the original layout of the building, there are two windows and the door is in the front corner. I am planning to replace the solid door with one that has either full-length glass or a half-glass panel to let in more natural light.
And there you have it, Folks. This design is easily adaptable to almost any space with some adjustments to measurements and furnishings that might be to your liking. We have personally adjusted nicely to our new home.
Now that I have first-hand experience in transitioning to a tiny space, I look forward to helping you fit your life and lifestyle into your idea of a tiny home. Scroll down a bit to see more pictures.