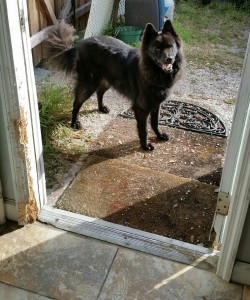 Living the Tiny Life with a Pet
Annie is our 6 yr. old, 35 pound Schipperke mix.
I have read articles about people who live in their tiny spaces with all types and sizes of dogs; and most recently I found James and Macy Miller's wonderful story of living in their 232 sq. ft. home with their 2 small children and their very large Great Dane. The only difference between their place and my 236 sq. ft. home is that they have a loft and I don't.
In the hustle and bustle of the many details of the move, I didn't give much thought to how our Annie would react to moving from the only home she had ever known in her 6 years to our new tiny space. I guess I thought as long as she was with us, she would be fine. However, our pets need some special attention to help them make the transition as well. We soon realized that living the tiny life with a pet was going to be a challenge. Some animals suffer from claustrophobia, just as humans do. They can also develop a number of other phobias and conditions, just as our Annie is showing a separation anxiety.
Very soon after we made the move, I went on a scheduled trip, leaving Annie with my husband who she adores. While I was gone, he continued his routine of leaving the house to have morning coffee with his cronies, never imagining Annie would be as upset as she obviously became. The damage to both front and back doors shown in the pictures was done over the course of 5 weeks. This is a major repair job.
Annie was traumatized, not only by the move itself, but by less familiar space to move around in and by being left alone. When you are making a similar change, take a little extra time and patience to help your pet adjust to his new lifestyle and surroundings. It could save you a few dollars on an unexpected repair bill.