Living on a Boat Named "Solitude"
Living on a boat with 6 children has always got surprised looks from people who can't imagine how that is possible. Well, I can assure you it is. And we have a newspaper article about us doing it to prove it. To read that article, please click HERE.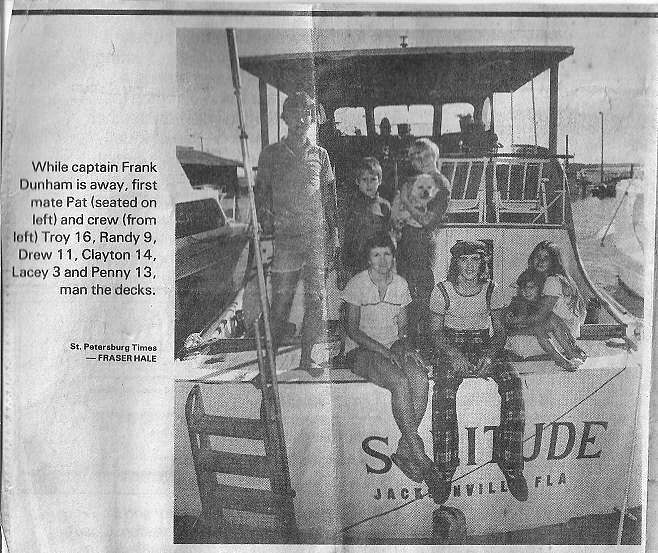 When I think back about our motivation to take such drastic steps, I first think about how much we enjoyed boating as a family and recall all the fond memories of every weekend in the summer that we would be on our boat. Being self-employed gave us the freedom to leave the marina in Connecticut on Friday night and cross Long Island Sound to arrive in the dark for our long weekend of fun on the water. We never missed a week-end, rain or shine.
The story of how we started boating started when my husband Frank and his buddy Bob each bought themselves two old Chris Craft boats, like the one in the movie On Golden Pond. They both spent the winter putting several coats of varnish on their prize possessions. I have to admit, after growing up by the lake, I didn't share my husband's enthusiasm about riding around in circles on the lake. Being raised in the city, this was a thrill for him, and was a bit disappointed that I was not as ecstatic as he was. I told him that if there was just a place for me to tan myself I would like it much better. To my surprise, he bought an old 34-ft. wood cabin cruiser named the NautiGal, and following tradition, we kept the name.
Frank had no experience with big boats, so he took a crash course from the other boaters at the marina and off we went for our first voyage to Shelter Island. He was told to look for the light at the inlet; and since it was dark when we arrived and no light in sight, we carefully neared shore and anchored out for the night. In the morning we were horrified that there were rocks sticking out of the water all around us. It was an absolute miracle that we didn't hit one in the dark and sink the boat right there. So just like in the movie On Golden Pond, we carefully inched our way out of there, with me on the bow directing which way to go, so as not to hit a rock. We later found out the light we had been looking for was out that night. After that adventure, we went to the same place every weekend with no further mishap.
During this time, we started thinking about how nice it would be to live on a boat full time, but also understood it wouldn't be very easy to do in the cold north with a short summer. So, after a trip to visit friends in Florida, we decided we would move there so we could boat year round and live our dream. We didn't have a boat suitable to house us all full time, but that didn't stop us from selling our 5 bedroom house and our business to fund our great new venture. One night Frank told me he had bought a boat and wanted to take me to see it. When we arrived at the marina it was dark, but we could see two large boats docked where Frank pointed. One was pretty shabby, and he told me that was the one. I was disappointed and told him, it was too bad it wasn't the other one because the other one was so beautiful, I could only imagine owning it. Then he told me that was actually the one he bought. When we finally were able to go aboard our new home called "Solitude", I was thrilled how perfect it was to fit all of us. It had a master state room for Frank and me, and two other state rooms for the children. One had 4 bunks in it for the 4 boys and the other one had 2 bunks in it. One for our daughter and one for the one on the way. Because our house closing did not coincide with Frank's plan, and I was expecting our sixth child, I stayed behind to take care of affairs while Frank took the boat to Florida with the help of a mate and the 2 oldest boys. We lived on that boat for several years and to this day, the children say, "Thanks for the memories".
Thinking back on it now, when remembering how it was living in such a big house, I recall another big reason we moved aboard a boat. The house was 72 feet long with the children scattered from one end to the other, it was hard keeping up with them and what they were doing or not doing. I imagined how nice it would be if we were all together like when we were boating during the summers. We had very little housekeeping, no yard work or anything like that, just happy being together. And now with the tiny house movement, I can see the same thing happening with a lot of families who want to be closer and more focused on family and things important to them. So when I look back, our motivation to move onto a boat and live with our 6 children is basically the same incentive as it is today.